Massy William F., Reengineering the University : How to Be Mission Centered, Market Smart, and Margin Conscious. Johns Hopkins University Press, 2016.
Description: "Higher education expert William F. Massy's decades as a professor, senior university officer, and consultant have left him with a passionate belief in the need for reform in America's traditional universities. In Reengineering the University, he addresses widespread concerns that higher education's costs are too high, learning falls short of objectives, disruptive technology and education models are mounting serious challenges to traditional institutions, and administrators and faculty are too often unwilling or unable to change. An expert microeconomist, Massy approaches the challenge of reform in a genuinely new way by applying rigorous economic principles, informed by financial data and other evidence, to explain the forces at work on universities and the flaws in the academic business model. Ultimately, he argues that computer models that draw on data from college transaction systems can help both administrators and faculty address problems of educational performance and cost analysis, manage the complexity of planning and budgeting systems, and monitor the progress of reform in nonintrusive and constructive ways. Written for institutional leaders, faculty, board members, and policymakers who bear responsibility for initiating and carrying through on reform in traditional colleges and universities, Reengineering the University shows how, working together, administrators and faculty can improve education, research, and affordability by keeping a close eye on both academic values and the bottom line."
Categories: EDUCATION / Higher ; BUSINESS & ECONOMICS / Government & Business ; EDUCATION / Educational Policy & Reform / General ; EDUCATION / Administration / Higher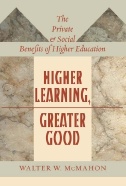 McMahon, Walter W. Higher Learning, Greater Good : The Private and Social Benefits of Higher Education. Johns Hopkins University Press, 2009
Description: Winner, Best Book in Education, PROSE Awards, Professional and Scholarly Publishing Division, Association of American PublishersA college education has long been acknowledged as essential for both personal success and economic growth. But the measurable value of its nonmonetary benefits has until now been poorly understood. In Higher Learning, Greater Good, leading education economist Walter W. McMahon carefully describes these benefits and suggests that higher education accrues significant social and private benefits. McMahon's research uncovers a major skill deficit and college premium in the United States and other OECD countries due to technical change and globalization, which, according to a new preface to the 2017 edition, continues unabated. A college degree brings better job opportunities, higher earnings, and even improved health and longevity. Higher education also promotes democracy and sustainable growth and contributes to reduced crime and lower state welfare and prison costs. These social benefits are substantial in relation to the costs of a college education. Offering a human capital perspective on these and other higher education policy issues, McMahon suggests that poor understanding of the value of nonmarket benefits leads to private underinvestment. He offers policy options that can enable state and federal governments to increase investment in higher education.
Categories:

EDUCATION / Higher ; BUSINESS & ECONOMICS / Economics / General ; EDUCATION / Educational Policy & Reform / General